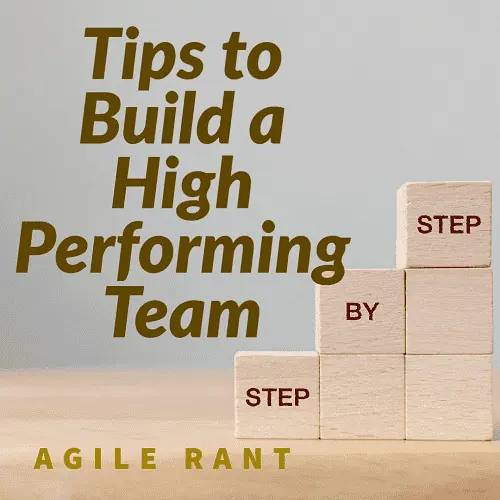 We have all seen high performing teams. All of us want to be on them or want to have them. But, how do you go about building these teams. I have assembled the best tips and ideas to build a high performing team of your own.
Table of Contents
Collaboration skills are utmost for a high performing team
One of the most important things is that team members are collaborative. Team members have the soft skills to work together as a team. Embracing the team aspect and together building great solutions and solving complicated problems. Being a member of a team requires collaboration for the team to function. High performing teams have mastered the collaborative skills to be truly great as a team.
Complimentary skill-sets
Not everyone on the team is experienced in the same things. Having good depth of experience across varied topics and knowledge bases will allow a team to be high performing. Both because the team won't have too much knowledge wrapped up in the same things, thus be deficient in others. But by having wide arrays of experience and skills, you often find different aspects of the work that different team members can do well together. Teaming up for best effect.
Team members are self-directing
High performing teams need to steer themselves toward their goals. They are the best people suited to making decisions about how to go about the work. Not being able to self-direct at best slows them down. At worst though, it will take them in the wrong direction, working towards solutions that are not ideal or wrong. Because those solutions were directed to the team, not something they were able to drive and determine as a team.
Focused on software products and goals
Team members focused on the software products and how they can be used to meet goals are important. Too often in software and product development, there can be too much effort and focus on arbitrary deliverables and other ancillary details to the real goals. Team members that keep the focus on goals and how they can work towards them are important and truly part of the high performing team.
As managers and leadership, give goals and get out of the way
This goes to the self-directed team mentioned above. But leadership needs to understand this. Make the goals clear, and then get out of the way. The team will self-organize around the goals and figure out how to achieve them. If goals and expectations are clear, managers and other leaders not on the team don't need to get involved and micromanage. If they are experts and knowledgeable, they can join the team and help out. But most of the time, they slow down the work. This is a tough conversation to have, as most managers and leaders want to insert themselves in the process as they see fit. That often doesn't align with a self-organizing and self-directing team though.
Team members can't be risk averse
An extremely important idea is that team members need to be willing to take risks. Often, you can not have big wins and valuable work without taking some kind of risk. Risk needs to be measured, calculated and worth it. But team members can't avoid risk at all costs. Often, individuals will take conservative and safe options only. You also often avoid the big reward then. There has to be a willingness to take the risk, to be a high performing team.
Teams are diverse
Diversity on the team is so important. Team members need to bring different ideas, skill sets, and perspectives. Teams that have that, and lean on it to combine and build bigger and better ideas will perform the best. You can't have newer, innovative, and forward thinking ideas without having diverse teams.
Team members embrace perspectives of others
This is taking team diversity to the next level. As a diverse team is important, but you can't use all the different ideas if team members don't embrace each others perspectives. The ability to listen and combine ideas from different perspectives is one of the things that sets high performing teams apart. They not only have a lot of varied ideas, but they take them and refine and combine them. The team combines all of their best ideas into new ideas. The new ideas being the sum of the varying perspectives, and truly better because of being combined. Therefore, look for team members that embrace others ideas for the team.
Team members that understand what requires discussions and meetings
Communication is key on a team. But sometimes there are things that need to have live discussions, in meetings and in calls. Other times there is information that can be shared via other means. Team members that can understand these differences are important to the high performing team. As they help streamline communication. Keeping information moving for the most important things, but also sharing the lesser priority information in other ways. It helps keep the team moving, or better yet, doesn't interrupt them.
Team members that recognize each others effort and good work
The last idea I have to help you build the high performing team is to look for team members that are good at recognizing the good work and effort done by others. High performing teams work hard, and they take the time to recognize strong performance. This is an important factor as it celebrates success and helps keep up morale.
---
---
---
A great article about high performing teams and 5 things they do differently. Check it out here.